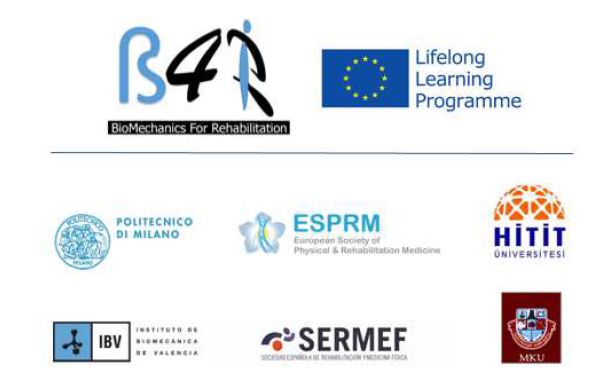 PRESENTATION
Despite of the fact that Biomechanical assessment is close related to the Physical Medicine and Rehabilitation field, there are still many professionals who remark the lack of penetration of this discipline in healthcare systems. This fact became evident in an study undertook in 2010 by the Spanish Society of Physical Medicine and Rehabilitation (SERMEF) in collaboration with the Instituto de Biomecánica de Valencia (IBV). This study claims the urgent necessity of incorporating, among rehabilitators, the latest innovative knowledge in the field of biomechanics of locomotor system, the technological tools for functional evaluation and their applicability in the rehabilitation processes.
With the purposes of changing this situation, different stakeholders at European level, including ESPRM, SERMEF and IBV, in collaboration with different European Universities, have developed for the last 3 years an specific learning program, which is especially aimed at presenting rehabilitators how biomechanics can provide new and complementary ways to manage physical rehabilitation in clinical contexts. This course, which pretends to foster the progression of the speciality and its harmonization at European level, has been carried out under the support of the project Biomechanics4Rehab, which has been funded by the European Union through the Erasmus+ Program (2013-1-TR1-LEO05-47549)
OBJECTIVES
The main purpose of this course is to provide professionals of rehabilitation with the following scientific & technical skills:
Introduce students into the most useful biomechanical assessment methodologies in the context of a rehabilitation service.
Review of clinical cases where biomechanics is applied in the treatment of the most common impairments of the locomotor system.
Learn the last technological advances used in the biomechanical valuation of locomotor disorders.
Provide students with the ability of understanding the results from any biomechanical analysis.
Learn the foundations of the biomechanical technology and its application as a tool to improve the rehabilitation processes.
ADRESSED TO
• Professionals of physical medicine and rehabilitation.
CONTENTS
Module 1: Introduction to Biomechanical Evaluation in clinical contexts
Introduction.
Clinical utility of Biomechanical Evaluation in the treatment of musculoskeletal disorders
Module 2: Clinical cases
Seven different pathologies will be introduced:
Gait analysis of a lower limb amputee (prosthesis adaptation)
Carpal tunnel syndrome evaluation
Cervical Whiplash
Lumbar pain
Hallux Valgus
Stroke
Parkinson
Each of these cases will be analysed according to this scheme:
Introduction
Clinical impact
Functional impairments and challenges for biomechanics
Clinical case: Medical history, objectives of the biomechanical evaluation, material and methods, results and conclusions.
Bibliography.
Students should do different activities and interpretation exercices regarding each case.
Dates
From 15th november 2017 to 15th de january 2018
Price
248€ + VAT
Duration
40 hours